2019 Regional Champions Crowned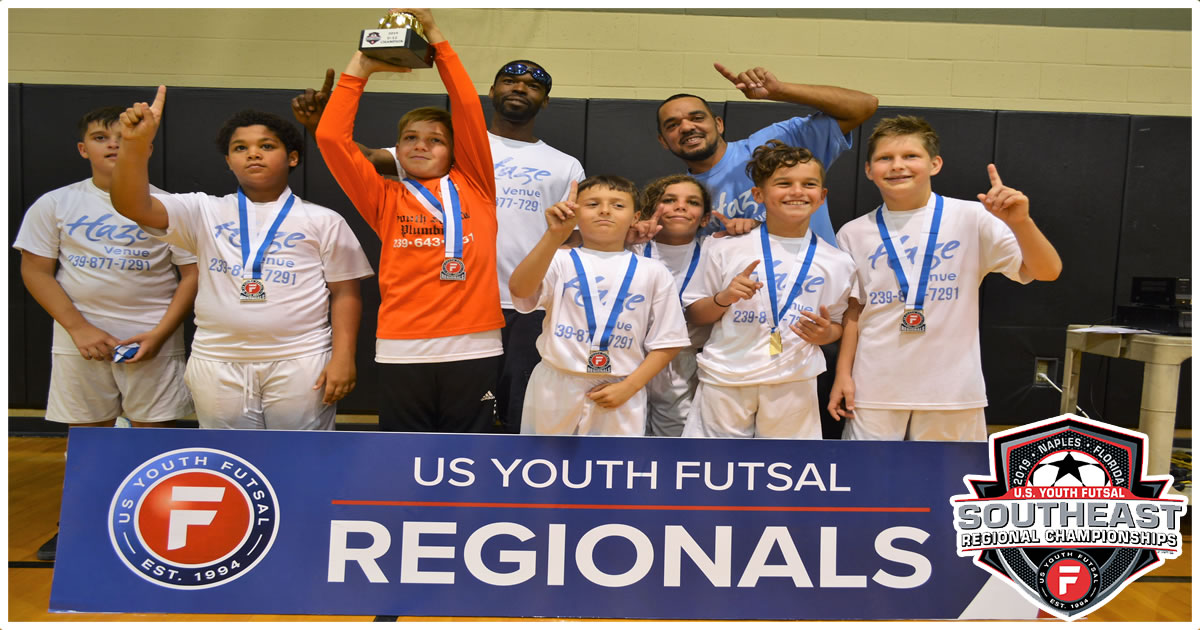 By John L. Haasis, 01/23/19, 2:45PM CSTS
---
OVERLAND PARK, KAN. (Jan.22, 2019) – United States Youth Futsal's Regional Championships were hosted in nine cities over the past three weekends, one last Summer, qualifying teams for the 2019 U.S. Youth Futsal National Championships.
1010 teams competed in the events, which took place in Boston, Cleveland, Kansas City, Naples, Fla., Philadelphia, Richmond, Sacramento, Charlotte and St. Louis. (San Diego was summer of '18)
All division champions in the U9-U19 (Boys and Girls) Receive Guaranteed acceptance to the U.S. Youth Futsal National Championships, which will be contested Feb. 15-18 in Kansas City. Division finalists may apply for Preferred At-Large bids. High-performing team participating in a Regional may also apply as an At-large team.
Congratulations to all Champions and Finalist.
2010 – U9 Boys
| Tournament | Champions | Finalist |
| --- | --- | --- |
| Southeast | Joga Bonito Futsal Academy 2010 – Neymar | Central Futsal 2010 Black |
| Atlantic | Samuel Rec FC | Sole Futsal Academy '10B |
| Northeast | Manhattan Kickers U9 | Ginga 2010 Boys |
| Great Lakes | Edge 2010 Boys Blue | Ginga Futsal |
| Central | FC Wichita 10B Junior Academy | Sporting BV Pre-Academy 10 |
| Midwest | Dobbs FC | BRUSFA BOYS 2010 |
| South Atlantic | EFC Jr. DA 10 PIVO | Barefoot Futsala DA U9 Boys |
| Mid Atlantic | LMVSC 2010 Boys Elite | FutsalRVA FDA Pivo Blue |
2009 – U10 Boys
| Tournament | Champions | Finalist |
| --- | --- | --- |
| Southeast | Central Futsal 2009 Black | Joga Bonito Futsal Academy 2009 – Coutinho |
| Northern California | Toque | LFC IAA BAY AREA 10B ACADEMY |
| Atlantic | Sole Futsal Academy '09B Orange | Barcelona |
| Northeast | Ginga 2009 Boys | Safira B09 |
| Great Lakes | DEFC 2009 Squad | ABK 09B Academy |
| Central | FC Legacy 09 | City FC 09B Saintus |
| Midwest | Next Play | Cadence SFC 09/10 |
| South Atlantic | EFC/DA 09 PIVO | Charlotte Futsal U10 |
| Mid Atlantic | FutsalRVA U10B Pivo | LMVSC 2009 Boys Elite |
| Southwest | B2010 Navy | Toque |
2008 – U11 Boys
| Tournament | Champions | Finalist |
| --- | --- | --- |
| Southeast | Joga Bonito Futsal Academy 2008 – Ronaldinho | PSG Academy 08 |
| Atlantic | Brazuca 2008 | FCU 08 |
| Northeast | Ginga 2008 Boys | GPS 08 Boys Red |
| Great Lakes | Barbarian FC 2008 Boys | Ohio Foxes – Premier |
| Central | FC Legacy 08 | Blackhawks 2008 Boys Black |
| Midwest | STL Futsal 08/09 | AUSC SELECT 08 |
| South Atlantic | Charlotte Futsal U11 Black | EFC/DA 08 PIVO |
| Mid Atlantic | Kickers FUTSAL U11 Boys Red | Kickers FUTSAL U11 Boys White |
| Southwest | Toque | Academia Barcenas |
2007 – U12 Boys
| Tournament | Champions | Finalist |
| --- | --- | --- |
| Southeast | Haze Venue FC | Gauchito United 2007 Concha |
| Northern California | Toque | Sac City FC 07 |
| Atlantic | DC Hyper Futsal | Pipeline Pre Academy '07s |
| Northeast | Ginga 2007 Boys Grey | FC Flair Boys 2007 |
| Great Lakes | Team Challenger FC B07 Black | Ginga Futsal |
| Central | TSC Futsal Academy 07B | TC SOL 2007 BOYS |
| Midwest | USA Bommarito | STL Futsal 07 |
| South Atlantic | Charlotte Futsal U12 Black | ATL Futsal 2007 – Boys – North |
| Mid Atlantic | LMVSC 2007 Boys Elite | FutsalRVA U12B Pivo |
| Southwest | Street Smart Soccer | SD Surfers |
2006 – U13 Boys
| Tournament | Champions | Finalist |
| --- | --- | --- |
| Atlantic | Ballers 06B | AFA Atletico |
| Northeast | Ginga 2006 Boys Grey | FC Boleiro 06 Boys |
| Great Lakes | ABK 06B Academy | ABK 06B Premier |
| Central | Sporting Kansas City U13 Academy | RISE 06 Boys A |
| Midwest | Phutbol Phenoms 2006 | Brusfa 06 Fire |
| South Atlantic | Charlotte Futsal U13 Black | EFC/DA 06 PIVO |
| Mid-Atlantic | Ballers 06B | FutsalRVA U13B Pivo Blue |
| Southwest | JF Academy | Toque |
2005 – U14 Boys
| Tournament | Champions | Finalist |
| --- | --- | --- |
| Southeast | Gauchito United 2005 | Orange Soccer Futsal Academy 05 |
| Atlantic | PFA 2005 | Brazuca Futsal 2006 |
| Northeast | North Atlantic FC 05B MA | GPS 05 Boys |
| Great Lakes | Guatemala 05 | ABK 05B Academy |
| Central | Sporting Kansas City U14 | Forge 05B |
| Midwest | Louisville Futsal Academy | STLFC Navy 05 |
| South Atlantic | Charlotte Futsal U14 | EFC/DA 05 PIVO |
| Mid Atlantic | FutsalETA 05B | FutsalRVA U14B Pivo Blue |
| Southwest | Hotspurs | Swaz |
2004 – U15 Boys
| Tournament | Champions | Finalist |
| --- | --- | --- |
| Northern California | SUSC Halcones 05B | Cardinal Bears |
| Atlantic | Ready Rangers 04 | Brazuca Futsal 2005 |
| Northeast | Ginga 2004 Boys Red | Dragons Boys-04 |
| Great Lakes | TFFC | ABK 04B Academy |
| Central | Forge 04B | Toca FC 2004 MLS |
| Midwest | Roadrunners B2004 Premier | STL Futsal 04 |
| South Atlantic | Charlotte Futsal U15 | Barefoot Futsala DA U15 Boys |
| Mid Atlantic | Barcelona USA 04 | Richmond United U15 Boys Red |
2003 – U16 Boys
| Tournament | Champions | Finalist |
| --- | --- | --- |
| Northern California | Team Delicious | Sac City FC 03 |
| Atlantic | PFA Fury | SJEB Rush FA |
| Northeast | North Atlantic FC 03B MA | Ginga 2003 Boys |
| Great Lakes | ABK 03B Academy | Sirius FC Los Tigres |
| Central | Forge 03B | Sporting BV Pre-Acadmey 03 Red |
| South Atlantic | Club Atlanta Futsal | Red-03 |
| Mid Atlantic | Richmond United U16 Boys Red | Ballers 03B |
| Midwest | Futsal Factory 03 Academy I | Futsal Factory 03 Academy II |
| Southwest | Great Whites | Futsal Club I.D. |
2002 – U17 Boys
Tournament
Champions
Finalist
Southeast
Orange Soccer Futsal Academy 02
Los Potrillos
Northeast
North Atlantic FC 02B NH
GPS 02 Boys
Great Lakes
Phoenix 02B Academy
Ambassadors 2002
Central
Southampton Pro Academy 02
SPORTING BV Pre Academy 02 Red
Midwest
Futsal Factory 02 Academy I
Phutbol Phenoms 02/03
South Atlantic
ATL Futsal 2002
2001 – U18 Boys
| Tournament | Champions | Finalist |
| --- | --- | --- |
| Northeast | Black Knights F.C. 2001 | Ginga 2001 Boys |
| Central | Toca FC 2001 MLS | Southampton Pro Academy 01 Red |
| South Atlantic | Barefoot Salonistas | Barefoot Futsala DA U18 Boys |
| Midwest | Little Onions 01 | STFA 01 |
2000 – U19 Boys
| Tournament | Champions | Finalist |
| --- | --- | --- |
| Atlantic | Sole Futsal Academy | Los Amigos |
| Northeast | AS Leones U19 | Black Knights FC 2000 |
| Great Lakes | Cleveland City Futsal '01 | West Akron National Team |
| Central | JOTP Bizet | Arsenal |
| Midwest | Skillability | Aurora Juventud-Chivas |
| Mid-Atlantic | Screaming Eagles | Barcelona USA 01 |
2010 – U9 Girls
| Tournament | Champions | Finalist |
| --- | --- | --- |
| Midwest | Brusfa Girls | BFC Select |
2009 – U10 Girls
| Tournament | Champions | Finalist |
| --- | --- | --- |
| Atlantic | Courage White | PFA Fury |
| Northeast | BRAZIL CT SAMBA 09 Girls | South Shore Select 2009 |
| Great Lakes | MIFFA 09G West | Team Challenger FC G09 Black |
| Midwest | Cadence SFC 09/10 Girls | LFA BLUE STAR FUTSAL ACADEMY 09 |
| South Atlantic | CR NM Grey jr 0 | Barefoot Futsala DA U10 Girls |
| Mid Atlantic | FutsalRVA U10G Pivo Blue | Kickers FUTSAL U10 Girls Red |
| Southwest | SDSC G09 Navy | Toque |
2008 – U11 Girls
| Tournament | Champions | Finalist |
| --- | --- | --- |
| Northern California | SUSC Futsal 08G | Beastmode 08 Girls |
| Atlantic | PFA Fury | SJEB Rush FA Red |
| Northeast | PFA Fury 08 Girls Red | South Shore Select 2008 |
| Great Lakes | Edge 2008 Girls Blue | Heart And Sole G2008 |
| Central | Sporting BV Switzerland 08 | Rise 08 Girls N |
| Midwest | LFA BLUE STAR FUTSAL ACADEMY 08 | BLFC Select 08 |
| South Atlantic | ATL Futsal 2008 – Girls | CR NM Grey jr 08 |
| Mid Atlantic | FutsalRVA U11G Pivo | LMVSC 2008 Girls Premier |
2007 – U12 Girls
Tournament
Champions
Finalist
Northern California
SUSC Futsal 07G
Elite 08
Atlantic
Puma Elite Futsal Academy Red 07G
PFA Fury
Northeast
BRAZIL CT SAMBA 07 Girls
PFA Fury 07 Girls
Great Lakes
MIFFA 07G WEST
Team Challenger FC G07 Black
Central
Sporting BV USA 07 – Stripes
Sporting BV USA 07 – Stars
South Atlantic
Hot Potatoes
Barefoot Futsala DA U12 Girls
Mid-Atlantic
Puma Elite Grey 07
Puma Elite White
Midwest
Madison 56ers Red
2006 – U13 Girls
| Tournament | Champions | Finalist |
| --- | --- | --- |
| Atlantic | PFA | EMSC Crew 06 Black |
| Northeast | YESA Crazy Tigers | PFA FC Albertson 06 Girls |
| Great Lakes | Ginga Futsal | Heart And Sole G2006 |
| Central | Forge 06G | FC Legacy 06 |
| Midwest | Louisville Futsal 06G | Madison 56ers 2006 Girls |
| South Atlantic | Fusion 06 ecnl | SFA 06 |
| Mid Atlantic | FutsalRVA U13G Pivo | Ballers 06G |
2005 – U14 Girls
Tournament
Champions
Finalist
Northern California
Slaying Queens
Elite 05
Atlantic
Puma Elite Corinthians 05G
ole Futsal Academy '05G
Northeast
Alleycats 2005 14 Girls
Great Lakes
MIFFA 05G West
Ginga Futsal
Midwest
Ankles Broken
Futsal Factory 05G Academy
South Atlantic
Charlotte Futsal U14 G
Mid Atlantic
Puma Elite Santos 05G
Puma Elite Corinthians 05G
Southwest
Futsal Club I.D
Adidas One
2004 – U15 Girls
| Tournament | Champions | Finalist |
| --- | --- | --- |
| Atlantic | PFA Fury | SJEB Rush FA |
| Northeast | Safira G2004 | South Shore Select 2004 |
| Great Lakes | Pickering SC 2004G | Pittsburgh Assassins 04Girls |
| Central | TSC Futsal Academy 05G | KC Fusion Academy |
| South Atlantic | EFC/DA 04 G | Barefoot Futsala DA U15 Girls |
| Mid Atlantic | BE Puma Elite 04G | Sonic |
2003 – U16 Girls
| Tournament | Champions | Finalist |
| --- | --- | --- |
| Atlantic | PFA Fury | SJEB Rush FA |
| Northeast | South Shore Select 2003 | Safira G 2003 |
| Southwest | Super Strikers | Futsal Club I.D. G04 |
2002 – U17 Girls
| Tournament | Champions | Finalist |
| --- | --- | --- |
| Northeast | PFA Fury 02 Girls | GPS 02 Girls |
| Great Lakes | Real Stars 2003 Girls | Phoenix 02G Academy |
| Mid Atlantic | RVA United | FutsalRVA HSG |
2000 – U19 Girls
| Tournament | Champions | Finalist |
| --- | --- | --- |
| Atlantic | Regional Team 02 | SJEB Rush FA |
| Northeast | PFA Fury 01 Girls | Samba Black |
| Great Lakes | Babarian FC 2000 Girls | HH U18 |
| Central | KS RUSH WICHITA | KCA Everton |
| Mid Atlantic | Spotsy Premier Girls | Fredericksburg FC High School Girls |